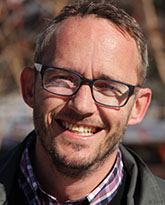 Back to Faculty
Colin Dale
Professor
Ph.D. University of Liverpool
---
Graduate Program Membership:
Office/Building: LS 201B
Phone: 801-585-0558
Email: colin.dale@utah.edu

Research Statement
---
Many insects are known to harbor mutualistic bacterial symbionts that play important roles in host nutrition and defense. Research in the Dale lab explores the nature of these symbiotic interactions using an integrative approach that employs genomic, transcriptomic, molecular genetic and molecular evolutionary analysis techniques. We explore a range of topics including: (i) the causes and consequences of genome degeneration in bacterial symbionts, (ii) the molecular basis of interactions between insects and symbiotic bacteria, and (iii) the use of symbionts to express foreign gene in insects of medical and agricultural importance.
Research Interests
---
General Interests
Specific Interests
Bacterial genome evolution
Molecular interactions in symbiosis
Culture and genetic manipulation of insect symbionts
Selected Publications
---
Kohl, K., Oakeson, K., Dunn, D., Meyerholz, D., Dale, C., Weiss, R. and Dearing, M.D. 2017. Patterns of host gene expression associated with harboring a foregut microbial community. BMC Genomics. 18: 697.
Miller, A.W., Dale, C. and Dearing, M.D. 2017. The Induction of Oxalate Metabolism in vivo is More Effective with Functional Microbial Communities than with Functional Microbial Species. mSystems. 2: e00088-17
Enomoto, S., Chari, A., Clayton, A.L., Dale, C. 2017. Quorum Sensing Attenuates Virulence in Sodalis praecaptivus. Cell Host and Microbe. 21: 629-636.
Clayton, A., Enomoto, S., Dale, C. 2016. The regulation of antimicrobial peptide resistance in the transition to insect symbiosis. Molecular Microbiology. 10.1111/mmi.13598
Clayton, A., Jackson, D.G., Weiss, R.B., Dale, C. 2016. Adaptation by Deletogenic Replication Slippage in a Nascent Symbiont. Molecular Biology and Evolution. 33: 1957-1966.
Miller, A., Oakeson, K.F., Dale, C., Dearing, M.D. 2016. Microbial Community Transplant Results in Increased and Long-term Oxalate Degradation. Microbial Ecology. 72: 470-478.
Miller, A., Oakeson, K.F., Dale, C., Dearing, M.D. 2016. The Effect of Dietary Oxalate on the Gut Microbiota of the Mammalian Herbivore Neotoma albigula. Applied and Environmental Microbiology. 82: 2669-2675.
Courses Taught
---
Biol 5275: Microbial Diversity, Genetics and Evolution