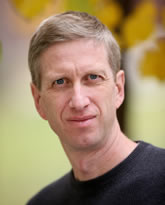 Back to Faculty
Villu Maricq
Adjunct Professor of Biology & Professor of Neurology
Ph.D. University of California, Berkeley M.D. University of California, San Francisco
---
Office/Building: ASB 482A
Phone: 801-581-6318
Email: maricq@biology.utah.edu

Research Statement
---
A challenge for neuroscience is to bridge the gaps between genes, proteins, neurons, neural circuits, and behavior in a single animal model. The nematode Caenorhabditis elegans has unique features that facilitate this synthesis. Its nervous system includes exactly 302 neurons, and their pattern of synaptic connectivity is known. The neurons are organized in neural circuits that process information and control behavior. How are these circuits constructed? What molecules are required for circuit function? How do circuits control behavior and how do behaviors modify circuits? In the past several years, we have made major advances in understanding how specific signaling molecules contribute to synaptic function and behavior. Ongoing studies are aimed at gaining a mechanistic understanding of the assembly, localization and function of neurotransmitter receptors, how these receptors and their auxiliary subunits contribute to synaptic plasticity, learning and memory, and the identification of novel toxins (peptides) that modify receptor properties.
Specific Interests
Protein complexes mediating synaptic signaling
Wnt signaling and synaptic development
Information processing by neural networks
Molecular mechanisms regulating plasticity and behavior
Selected Publications
---
Hoerndli, F.J., R. Wang, JE. Mellem, A.J. Kallarackal, P.J. Brockie, C. Thacker, D.M. Madsen and A.V. Maricq (2015) Neuronal activity and CaMKII regulate kinesin-mediated transport of synaptic AMPARs. Neuron 86:457-74.
Hoerndli, F.J., D.A. Maxfield, P.J. Brockie, J.E. Mellem, E. Jensen, R. Wang, D.M. Madsen and A.V. Maricq (2013) Kinesin-1 regulates synaptic strength by mediating the delivery, removal and redistribution of AMPA receptors. Neuron 80:1421-37. [Accompanying Neuron preview: Rongo, C. (2014) Going mobile: AMPA receptors move synapse to synapse in vivo. 80:1339-41]
Brockie, P.J., M. Jensen, J.E. Mellem, E. Jensen, T. Yamasaki, R. Wang, D. Maxfield, C. Thacker, F. Hoerndli, P.J. Dunn, S. Tomita, D.M. Madsen and A.V. Maricq (2013) Cornichons control ER export of AMPA receptors to regulate synaptic excitability. Neuron 80:129-42.
Wang, R., J.E. Mellem, M. Jensen, P.J. Brockie, C.S. Walker, F.J. Hoerndli, D.M. Madsen and A.V. Maricq (2012) The SOL-2/Neto auxiliary protein modulates the function of AMPA-subtype ionotropic glutamate receptors. Neuron 75:838-50.
Jensen, M., F.J. Hoerndli, P.J. Brockie, R. Wang, E. Johnson, D. Maxfield, M.M. Francis, D.M. Madsen and A.V. Maricq (2012) Wnt signaling regulates acetylcholine receptor translocation and synaptic plasticity in the adult nervous system. Cell 149:173-87.